Della Falls
May 24, 2015 in Uncategorized by Drea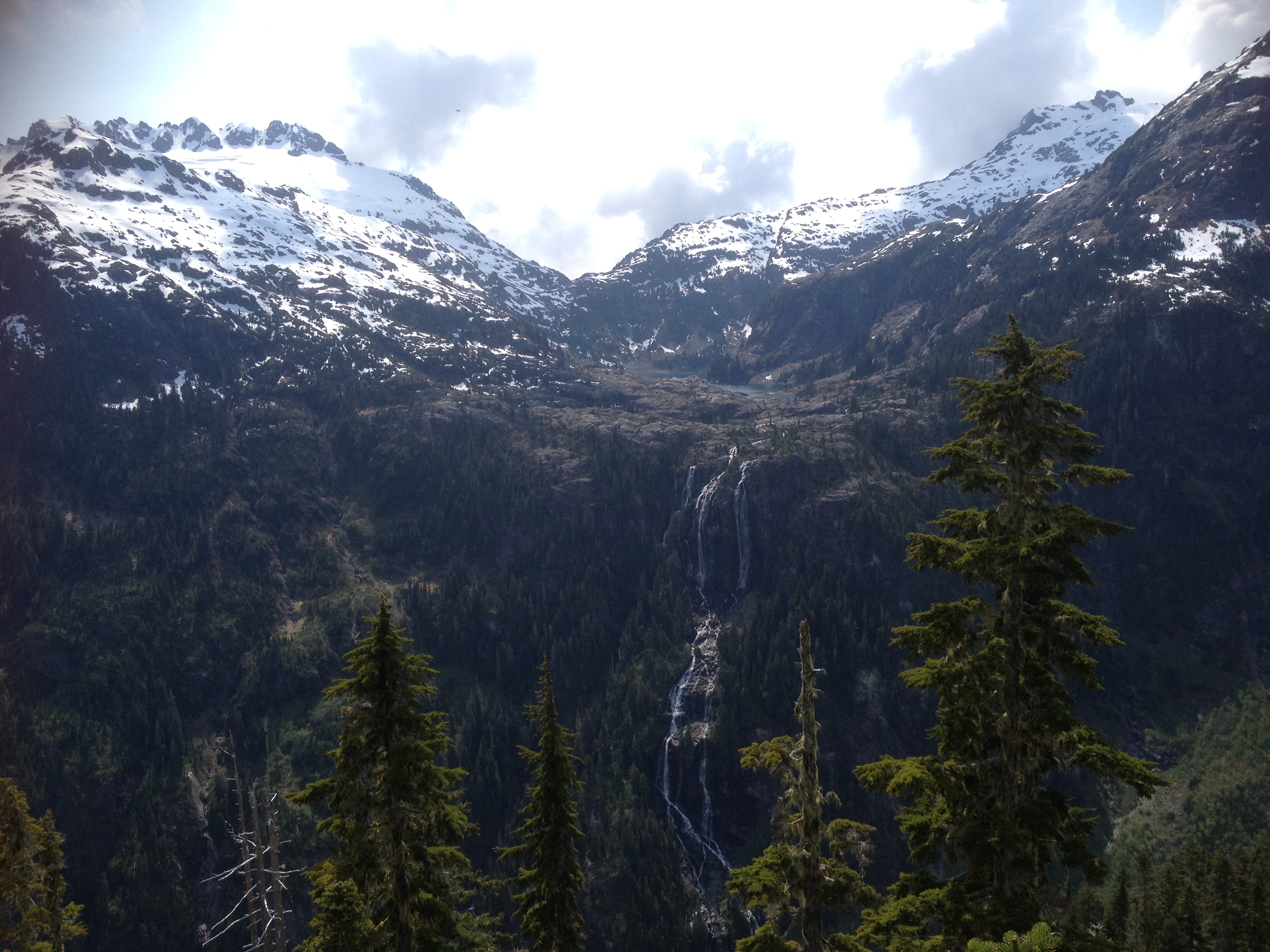 Della Falls- What an amazing trip.
We began the May long weekend by running a daytrip out of Port Renfrew.  We took 10 people out to Avatar Grove and had a catered lunch at Big Fish Lodge.  My long-time hunter fisherman friend Luke joined us as our secondary driver and guide.  He drove the other car, my mom's orange bug! Ha! And he really enjoyed the experience.
We left Renny and took a back roads adventure to the end of Lake Cowichan, to the Nitnat junction, then up past Franklin Camp and into the backside of Port Alberni.
We camped just outside of town up a logging road called Brenner which overlooked the valley.  Friday morning we managed to find a sweet coffee shop called Steampunk for breakfast sandwiches, strong coffees, and freshly baked muffins with yam!  The owner was on his way to Tofino to get married on my birthday.
8am we set sail off the dock of Great Central Lake which is 45 km long.  The owner of the Della Falls water taxi, Ben, dropped us at the trailhead into Strathcona Park.  We hiked approximately 13 km that day, mostly along Drinkwater Creek with a bit of elevation near the end.  We camped at a sandy river spot 2 km from basecamp where most other people stay.
The next day was my birthday.  We had an additional 2 km until we hit the trail going 3.5 km up Mt. Septimus to the lookout and Love Lake but it was nice to travel light with just a day pack. I lead and paced us slow and steady to enjoy the day.  I shared with Luke some of my life story.  About my birth, how my aunt was there to support my mom and that's why she passed on the middle name Idella to me.  Idella is a welsh name meaning bountiful.  My first name is after my great grandfather Andrew Gillard whom we all call dad gill.  A gentle giant.  My first 6 yrs. of life in Newfie, being born in the same hospital as my mom and her twin who passed away as an infant.  Living in Port au port like my mom did as a child.  Spending half the time with Grandma and Grandpa Pike, learning to garden, cook, hunt, clean, fish, and shoot, basically living off the land.  I'm the only one of my sisters who experienced that.  And it has shaped me tremendously.  Even that my mom got preggers and had me was a miracle! I told him how it's always been important to me to leave a legacy.  I want to be that lone pioneer woman, the Cougar Annie, of my family.   Luke really appreciated hearing my history and shared a bit of his story with me too.  What a sweet way to bond and really get to know someone.
3 hrs. later we reached the lookout at 1200 metres above sea level.  To the left of the view is Nine Peaks mtn. and to the right, Big Interior, both sit at 1800 metres.  Between them is a giant bowl where Della Lake sits and the falls cascade into three streams falling 1440 ft. to the base.  The highest waterfall in Canada.
We sat for 2 hrs. eating cake (a piece we bought from Little Vienna Bakery in Sooke Thursday morning and hiked up there) and taking pictures, breathing it all in.  There was a tiny plaque for a captain from Newfoundland in the rock up there too.  I could have stayed for days looking at that scene.  I later learned the falls to the far left is Beauty Falls from Beauty Lake, and there's a glacier up at Love Lake but we didn't go any further which worked out because we heard from other hikers it was snowed in.
We took our time coming down the mountain and little 3 month old Nootka just nailed it!  Along with Sage of course.  We went through basecamp, said hello to everyone and told them it was my birthday.  We went to the base of the falls which is not far from camp at all and made our way back.  Our faithful captain Ben suggested I bring groups up to the Falls and I think it's a wonderful expansion for my business so I made sure to take many pictures.
Back at our camp, we had my birthday dinner.  Instant pasta, bacon carbonara and pesto penne with salami, mushrooms, red pepper, tomatoes and cilantro!  Along with sipping maple whiskey from little tin cups around the fire.  Luke and I really tapped into the old miner's spirit and spent a lot of time re-living what we imagined to be the history of the land.  Drinkwater Creek is named after Joe Drinkwater who discovered gold in Della Lake and built a cabin at the base of the falls back in 1910.  He was a local pioneer and jack of all trades.  He named the falls after his wife Della.
We slept by the fire that night, lying on our backs, watching the stars and talking about life.  The next morning we packed up and made our descent, back across the sketchy 1 ft. wide steel bridge and the man powered cable car.  We walked in silence mostly as I know I was feeling sadness of the trip's end.
Ben met us early which was great because the last few hours surprised us with thunder and lightning spring rains.  It was sweet actually, been years since I walked through one.  Or boated!  Damn it was right above us at one point in the middle of the lake! Ha!  We had warm showers at the marina and sought out our very much awaited cold Heinekens and steaks.  We camped up Copp main which allowed us the view up the valley of Mt. Arrowsmith to Cameron Lake.  It was beautiful.
The final day we spent exploring the back country of the island.  We stopped at river spots for a dip and lookouts for pictures.  I found myself also very quiet and solemn, realizing how we are our true selves when we're out in the wild like that.  No roles, no expectations, just who we really are.  In the raw.  I noticed my anxiety as soon as we got off the boat at great central returning to the van.  Luke too, woke that last day very quiet, closed,  and I thought about how we all react and cope differently to the noise of the world. I feared losing that sweet blissful freedom and peacefulness we experienced up in those mountains.  We talked about writing about this trip while the feeling was fresh and how important it is to follow our dreams in life because our time here is short and so precious.
34 yrs. old and a little bit wiser.